The Ionian Sea is one of the most popular attractions in Greece and our 7 days Ionian Catamaran's Flotilla is the ideal way to visit the most beautiful bays and idyllic places of the area, to explore the Ionian culture, and taste the one of a kind local cuisine. Choose one of the fully equipped catamarans of our fleet with or without crew and follow the lead crew to unique destinations every day. The flotilla crew will organize the daily schedule and events and they will provide technical 24/7 support during the week to the flotilla catamarans. The Ionian Catamaran's Flotilla is ideal for beginners and advanced sailors as well, cause of the nature of the Ionian area. The variety of the prevailing winds during the day helps us to plan a week where we will have the chance, to swim in the most beautiful and picturesque bays, to visit unique sites, and sail in areas where the breeze is guaranteed. Our local knowledge and our experience is the guarantee for your next unforgettable sailing holidays
7 Day Flotilla in the Ionian Sea
Day 1
16/10: Joining Day. Brief meeting in Lefkada and check-in. It is where the adventure begins.
On day one you will see the Catamarans and you will meet the crew and the participants. On your arrival, you will be welcomed by the skipper and briefed about the basics regarding the yacht and the surroundings. Once everyone has arrived we will have the chance to have a drink all together to know each other and discuss the details of the trip as well as our expectations.
Day 2
17/10: Sailing to Vathi in Ithaca (26 N.M.)
The day begins with the safety and daily briefing and just after this, we'll get our sails up heading south to idyllic bays and the final destination of the day the island of Ithaca where the flotilla crew will be there to welcome you. Our flotilla crew will organize a punch party where you have the chance to meet the rest of the catamaran's crew.
Day 3
18/10: Sailing to Kastos (18 N.M.)
The day begins with a daily briefing and then we'll get our sails up heading east to the island of Kastos where the lead crew will be there to welcome you. The uninhabitable island of Atokos with the crystal clear water is on our way, so the option to stop there for a swim is more than reasonable.
Day 4 
19/10: Sailing to Porto Leone in Kalamos (5 N.M)
Sort distance today but what a special day will be. Our destination is the uninhabitable Village of Port Leone in Kalamos which was deserted after the 1953 earthquake. Ideal place for our beach party. Our flotilla crew will organize the day and they will make sure that having a beach party and spending the night in a place like this will be a unique experience for you.
Day 5
20/10: Sailing to Fiskardo in Kefalonia (22 N.M.)
Fiscardo is one of the most beautiful destinations of the Ionian Islands. It is a picturesque place with plenty of little shops, colorful houses and a few of the most famous restaurants in the Ionian.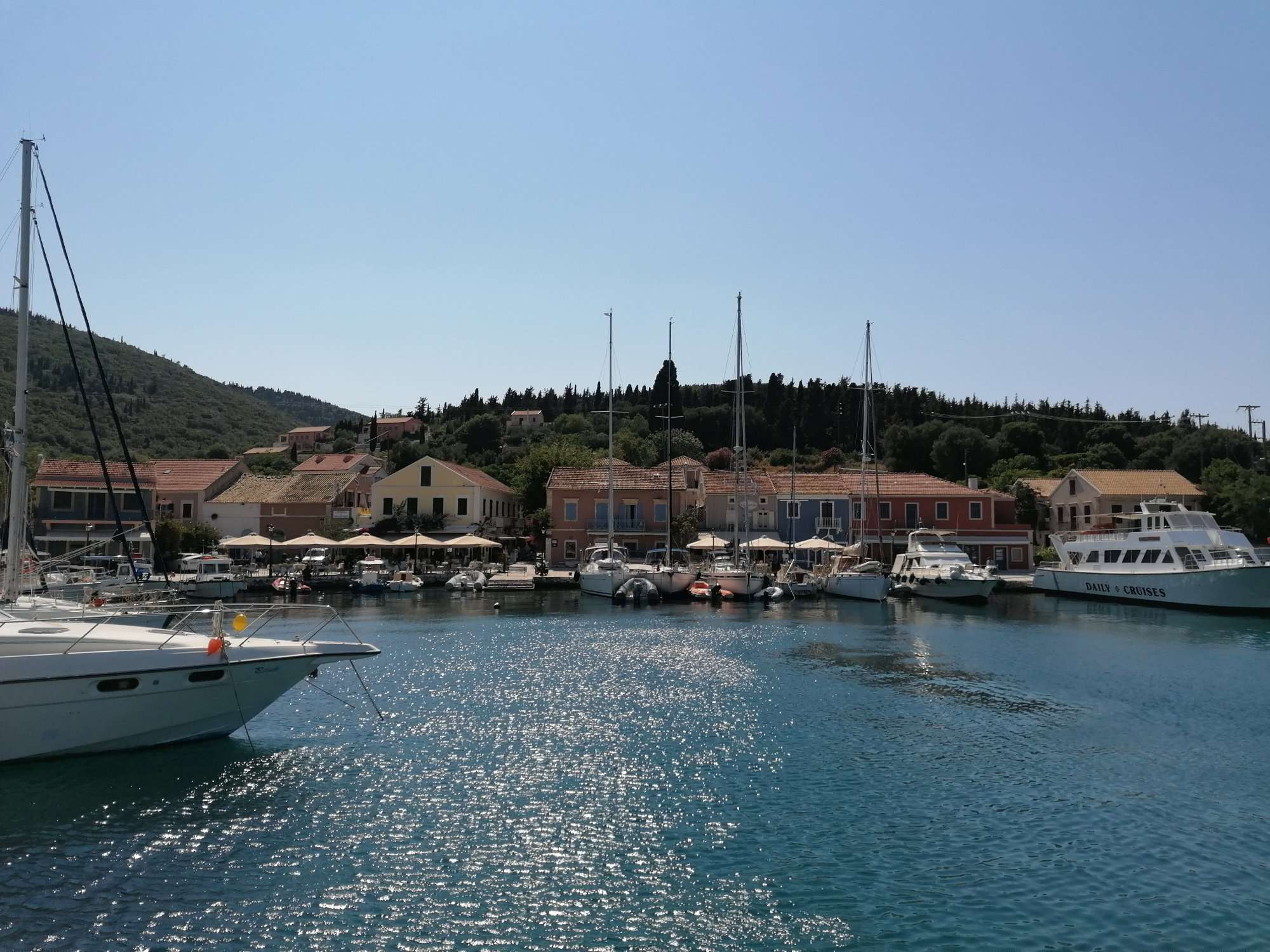 Day 6
21/10:  Sailing to Frikes in Ithaka (10 N.M)
Frikes is a little traditional village on the northeast side of the island of Ithaca. The place of Frikes became famous to the sailors of the area for the unique local cuisine and the nightlife. Definitely, the best way to finish our week!
Day 7
Tuesday 04/05: Sailing back to Lefkas (23 N.M.)
On our way back to Lefkas we will have the chance to stop for a swim in Meganisi and sail North to the Lefkas Canal. Our flotilla crew will organize a farewell dinner and a goodbye party for the last night of your holiday.