The Ionian Sea is one of the most popular sailing areas in the world and Easter in Corfu is one of the most unique and beautiful celebrations of Christianity. Of course, it is not just a matter of religion, so even you don't have the same beliefs it is still a spectacle worth witnessing. This is why we decided to arrange a 10 day Easter sailing flotilla in Corfu so that you have the opportunity to observe these celebrations while enjoying sailing in the most beautiful places in the area. Choose one of the fully equipped catamarans of our fleet with or without crew and follow the lead crew to unique destinations every day.
Easter Sailing Flotilla in Corfu 2022 – 10 Day Trip
(The exact dates for this year's 10-day trip are 20/04/22 – 30/04/22 in order to get the chance to take a taste of the Corfiot Easter.
Price per person – Skippered Charter: 970,00€
Price includes: S/Y, skipper, fuel, mooring fees, VAT, 24/7 support & cleaning fee
Price per person – Bareboat Charter: 790,00€
Price includes: S/Y, fuel, mooring fees, VAT, 24/7 support & cleaning fee
Select between a wide variety of yachts: *All flotilla yachts will have a complimentary paddleboard for extra fun!)
Day 1
Holy Wednesday: Get to know the participants in the flotilla as well as your trainers.
-Brief meeting in Lefkada and check-in. It is where the adventure begins.
Day 2
Holy Thursday: Live the experience in one of the magical Greek islands Paxos, by mooring in Gaios.
-Explore the town of Gaios and have a welcome punch with the flotilla team.
Day 3
Great Friday: This is where you get to witness the most well-known Easter in Greece!
-Time to explore Corfu town, which is a cultural UNESCO world heritage site in Greece. Enjoy the majestic music of the philharmonic orchestras that will be heard around the island during the evening. It is practically Jesus' funeral, so it is an emotional ceremony for the faithful, and definitely worth witnessing.
*note for our info: IF THERE IS NOT SPACE TO DOCK IN CORFU TOWN, WE WILL ARRANGE TRANSFERS FROM MARINA TO CORFU TOWN.
Day 4 
Holy Saturday: A morning Visit to Corfu town.
-You will have the chance to see the traditions of the day, and break your Boti, in the way that the local people do! Υou will continue with a Corfu town walk and you will have the chance to taste local delicacies. During the night, we will witness Christ's Resurrection and we will watch the breathtaking fireworks at the end of the celebratory ceremony.
Day 5
Easter Sunday: Traditional Greek Easter lunch in Paxos.
Time to leave Corfu and visit Loggos, which is a beautiful port in Paxos with very tasty local cuisine. You will have the chance to have dinner in front of the sea and try the special delicacies of Easter celebrations.
Day 6
Monday:  Next stop is Antipaxos and then Parga.
There amazing places for a swim, sunbathing, relaxing, fishing, and meals on board exist. These spots are very well known for their crystal-clear waters, looking like real-life swimming pools (or even better some would say).
Day 7
Tuesday: Fiskardo, Kefalonia
-One of the biggest islands of the Ionian Sea is Kefalonia. The colorful Fiskardo will steal your heart. You will have plenty of time to have some walks around the narrow streets and try food in some of the best restaurants in the Ionian Islands.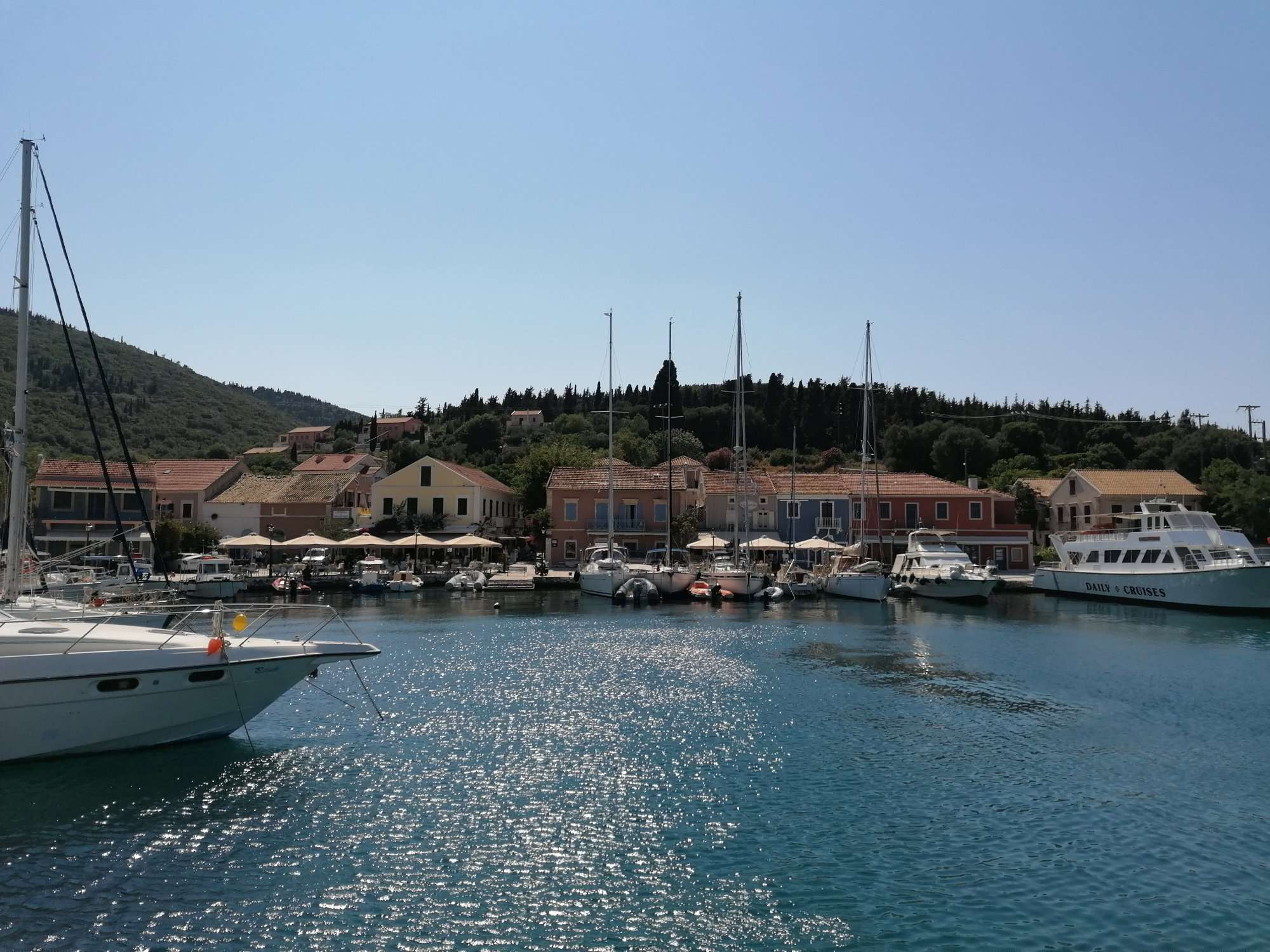 Day 8
Wednesday: Filiatro, Ithaka
Filiatro Beach is very close to Vathy and one of the prettiest beaches on the island. It is usually very crowded, but since we will be visiting in the low season the beach will probably be all to ourselves. This means that a beach party needs to take place, so we will moor there for the night!
Day 9
Thursday: Time to wander around the Historical center of Ithaca.
-You will fall in love with the deep blue waters, the green hills, and the calmness that this island generously offers.  A peaceful location with savor traditional snacks and warm hospitality! A beach party will follow cause having fun is the priority of this trip.
Day 10
Friday: Frikes, Ithaca.
-It is the last day of the trip, so we will have to celebrate it properly with a farewell party. Let's have an unforgettable last night on board with music, cocktails, and revisiting the funny moments of the trip.
Day 11
Friday: Departure Date in Lefkada.
-At last, we are on our way back to Lefkada. We are going to have a swim and lunch stop and many photographs to share with each other. Don't worry if you feel a little sad about the end of this amazing trip! We can always keep in touch and arrange a new one next year!