Yacht Rentals
Ionian Catamarans offers both crewed and bareboat catamaran yacht charters in the greek islands and especially in the Ionian Sea. Our yachts are fully equipped and well maintained, given personal care with attention to detail, and tailor made options on the clients needs. Our trained staff will assist you, from booking your charter to the time you finish your sailing holidays.Years of experience guarantee stress free sailing holidays that you will never forget! Enjoy your holidays in Greece on a sailing yacht, catamaran, motor yacht or motor sailer, crewed or bareboat.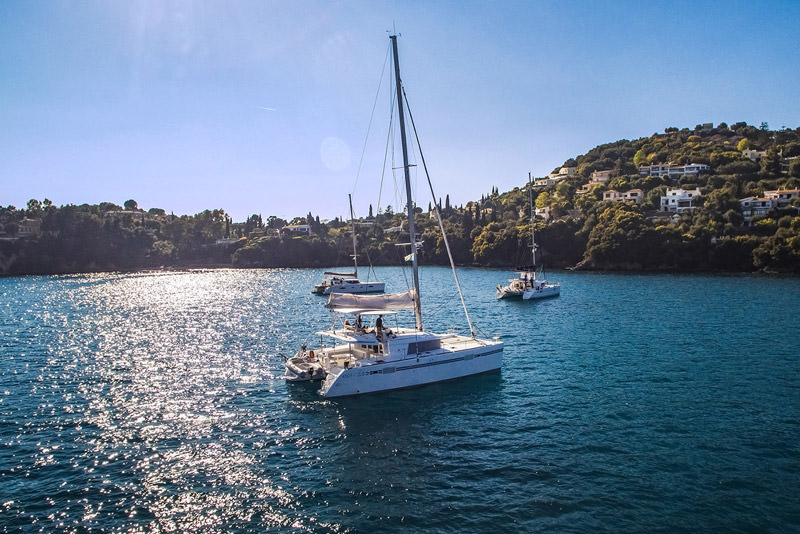 We had a fantastic time!
Service highlights for us were:
(a) Alex – super accommodating, chose best possible overnight locations (esp. right by the entrance of the Paxos blue caves!), knowledgeable insights about the Ionian, clearly runs crew well so everyone knows what they should be doing. Couldn't recommend him more highly.
(b) Crew – lovely, couldn't be more helpful, never had to wait more than two minutes for a coffee or a Mythos (!), responded quickly when a girl in our party banged her head on the Terminator 4.
(c) Cook – Delicious food, thoughtfully presented, we loved the orange cake for breakfast. Sometimes a bit too much carbohydrate for UK tastes (bread, potatoes etc.,) but we understand that is the Greek way!
(d) Boat – a big beast engine-wise, excellent though sometimes too strong air-conditioning, cleaned regularly – interiors a bit too East European for our taste but fine!
(e) Jet Ski – a big hit!
Put me down for a 9/10 net promoter score for Ionian Catamarans.
Dear Vassia, first of all, I would like to express all my thanks to your company for the beautiful holidays that I had with my family.
Your staff at the harbor was amazing and the skipper Kostas is already part of the family, simply all was GREAT!!!!
The boat was in excellent condition, team was super friendly and in the same time very professional, the check-in/check-out/signing documents , everything was quick and flawless.
It was a real pleasure to work with you! Thank you!
- Welcome : 5/5 (Excellent)
- Boat : 5/5 (Excellent)
- Quality/Price : 5/5 (Very Good)
- Destination : 5/5 (Excellent)
All was really easy and good. The location as we all know is beautiful.
The boat was fine and well within the expectation.
Local station people – among the best we met
Global Rating: 5/5 (Excellent)
Zwei Wochen auf den Spuren von Odysseus
Herzlicher Empfang und gute Betreuung durch die Crew in der Marina Gouvia. Der Basisleiter Thanos hat uns auch während der Reise sehr professionell unterstützt. Gerne wieder!
- Welcome : 5/5 (Excellent)
- Boat : 5/5 (Excellent)
- Quality/Price : 5/5 (Excellent)
- Destination : 5/5 (Excellent)