One of the things that make Greece popular among visitors, is the local and traditional food. The greek cuisine is considered one of the healthiest and tastier ones and is definitely a crucial part of the culture of the country. The most common and essential element among all foods is olive oil, which gives a distinctive taste to the greek food, as well as the use of several herbs and spices. Whatever your dietary preferences are, you will find everything to satisfy your needs! If you want a list of the most popular and tasty foods to eat in Greece, here's what we recommend!
What to Eat in Greece
Moussaka

The iconic Greek oven-baked food with layers of sauteed potato, aubergine, minced meat, fried tomato, onion, garlic, cinnamon, and on top béchamel sauce and cheese that has even been mentioned in movies, is a must-try and you can't leave the country without tasting it.
Grilled Seafood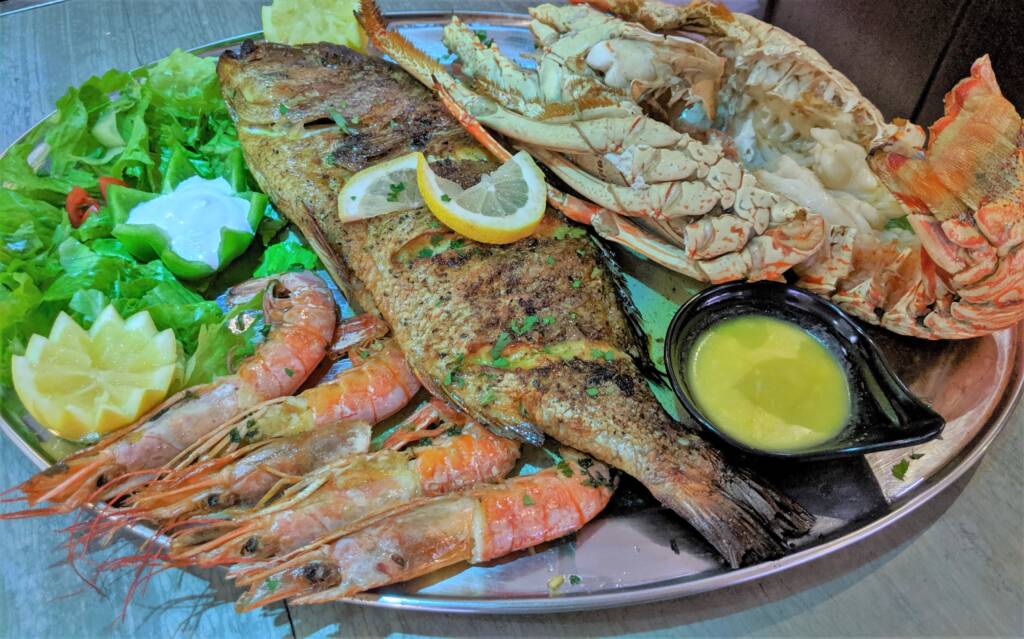 You will find several kinds of fresh fish and seafood, especially in the islands of the country, which the local fishermen catch daily and serve on the same day. Don't forget to ask the local tavernas about the fish of the day and ask them to cook it for you. It will be served with a sauce of olive oil, lemon with oregano, and salt. Definitely, a greek delicacy you don't want to miss!
Lobster with Pasta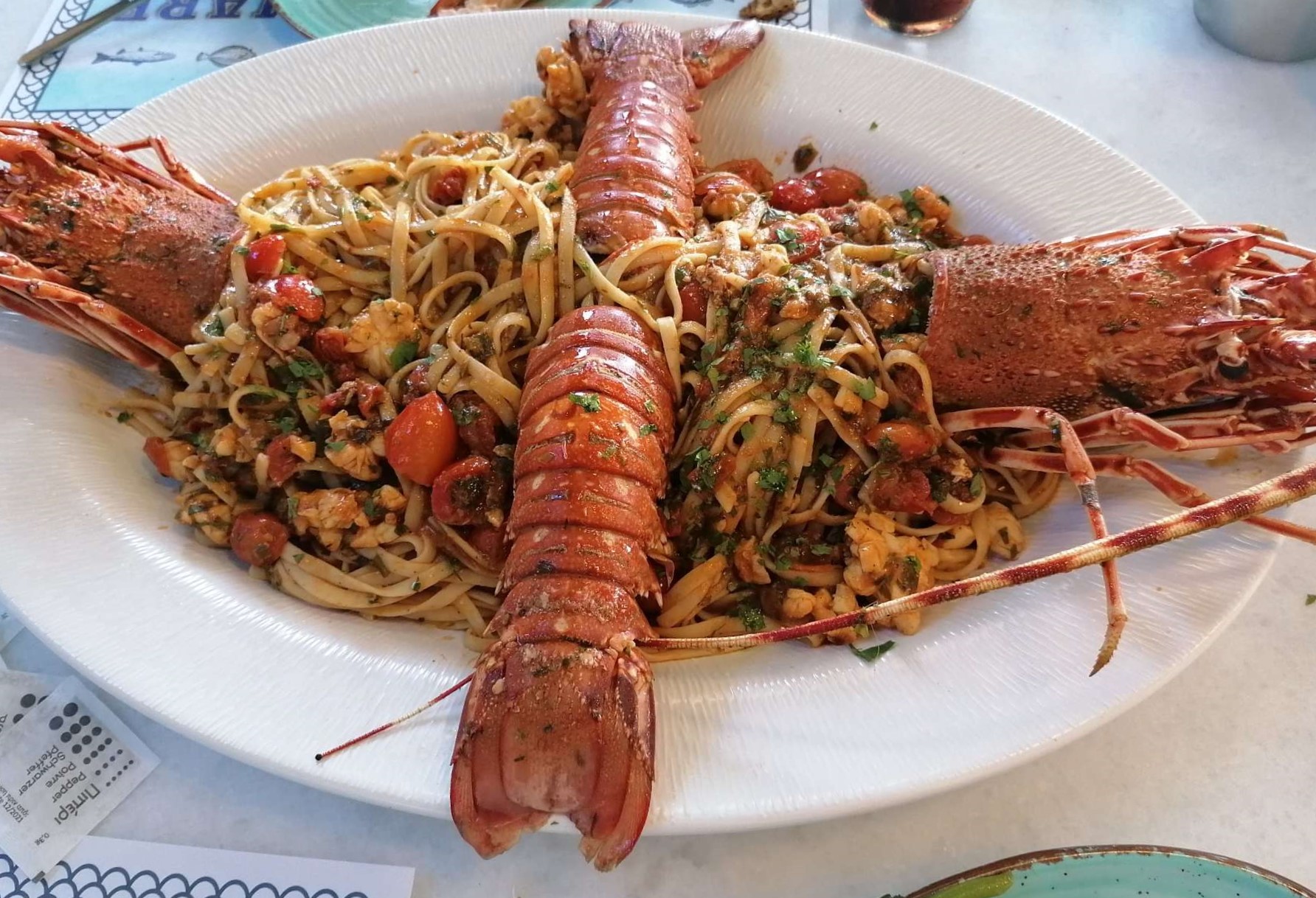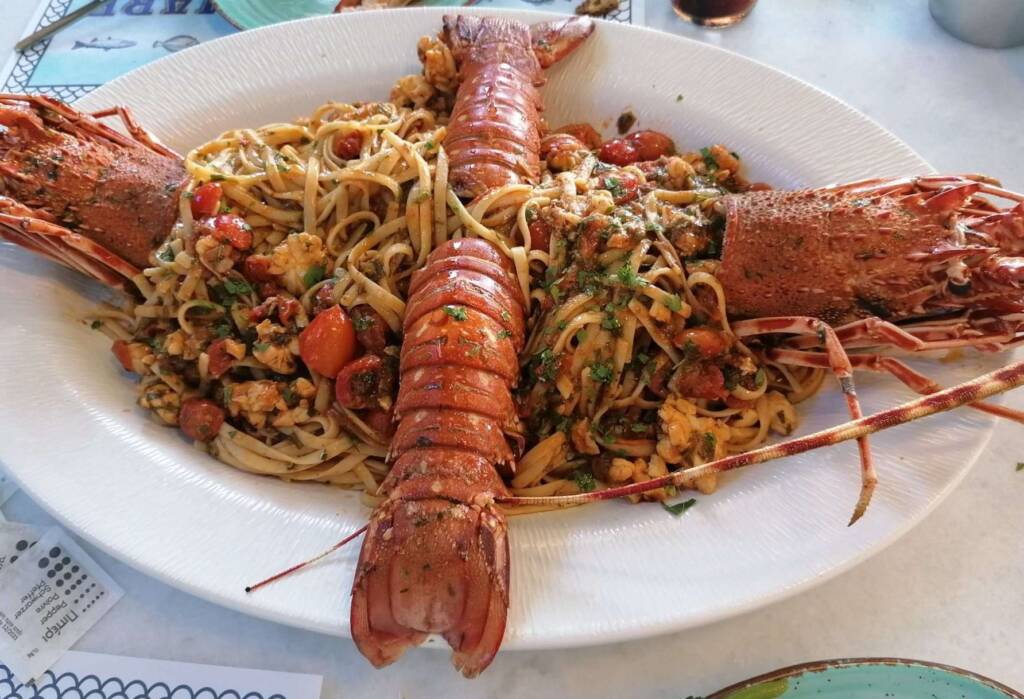 This delicious food reminiscent of the Greek summer holidays is something you mustn't miss out on trying at least once. It is made of the Mediterranean lobster which is called "kolochtipa" and linguini with the addition of very few spices, which let the special taste of the lobster stand out.
Fried Kolokithokeftedes (Courgette Balls)
This traditional vegan dish is the perfect alternative to the classic meatballs and a great starter that will satisfy even the most demanding people. This mix of feta cheese, courgette, mint or basil, onion, and spices will be your favorite starter during your vacation, and we can't say we'll be surprised!
Greek Salad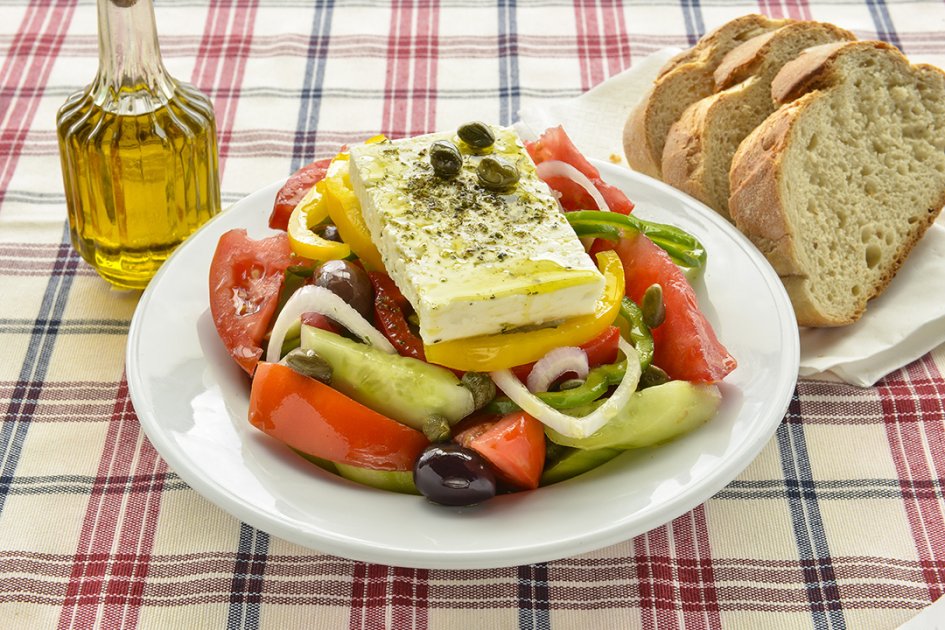 The simplest of them all, yet one of the most tasteful, healthy, and rich in ingredients dish. The greek salad contains vegetables that are very common in the Mediterranean like olives, tomato, onion, paprika, cucumber combined with a pinch of oregano and olive oil and topped with a generous piece of feta which is the traditional cheese of Greece.
Marinated Octopus in Vinegar
This traditional delicacy is the best greek "Meze" which you will usually find on a small plate eaten by locals sitting on a table next to the sea. It perfectly compliments Ouzo and Tsipouro, which both are local alcoholic drinks, that you must try as well.
Saganaki
If you are a cheese lover this Greek starter will be your favorite. This traditional appetizer is fried without any butter and served with freshly squeezed lemon. If you want an extra twist you can ask for a drizzle of local honey on top.
Pita Gyros
This dish can be eaten on the go and it is one of the most popular and undeniably delicious greek foods. It is made with meat (pork or chicken) cooked on vertical rotisserie wrapped in fluffy pita flatbreads, and also contains ingredients such as tomato onion and tzatziki sauce. You can customize it and add anything you like, but we recommend you opt for the traditional version!
Local Pies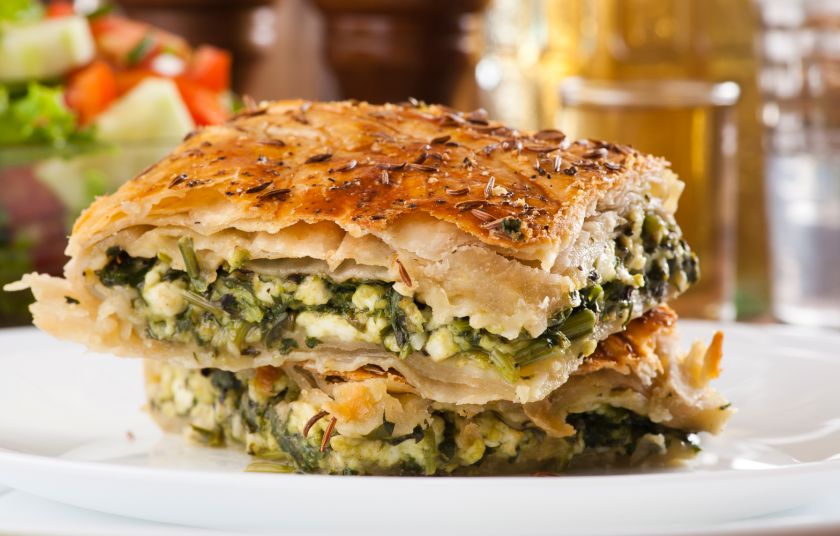 This simple, yet delicious food can be found in the local bakeries or the tavernas and restaurants, so don't forget to try it at least once. It is among the oldest dishes of the country and there are so many variations of it that there is no way to mention them all here. The types of pies you will find in each place vary and are determined by the local history, traditions, and climate. They have so many different fillings and types of crusts, so you will definitely find your favorite!
The Ionian Islands have their own distinctive cuisine which you will probably find only in the area, so here are the foods we recommend to try out!
Sofrito
The ultimate Corfiot traditional dish. This meal contains veal with garlic and vinegar-based sauce. If garlic is of your preference, then this traditional Sofrito recipe is a must-try during your visit to the Island. If garlic is not your favorite, do not hesitate to give it a shot because when cooked, it loses its very strong smell and flavor and becomes sweet and aromatic. It is perfect when combined with fries or mashed potatoes (we can't get over the home-cooked fries combo though!). In Corfu locals also call it "kakavilia" so keep an eye for this name on the catalog as well!
Pastitsada
This special Corfiot recipe is the top local dish, so you mustn't miss it out. It is consisting of thick pasta topped with rooster or beef slow-cooked in a spicy and sweet tomato sauce. Then you can ask for kefalotyri or parmesan cheese to top it off and you are ready to succumb to this temptation. It wouldn't be an exaggeration if we said that you will want to order it every day.
Bourdeto
Bourdeto is also a dish from Corfu. If you are a fan of fish you should definitely give it a try, since it is a healthy and Mediterranean way of eating it. The best fish is scorpionfish, but any local and fresh fish will do. It is cooked in the oven along with tomato sauce, garlic, onion, and lemon juice.
Of course, we couldn't forget to recommend the plates that will satisfy your sweet tooth. Below are our favorites:
Galaktoboureko
This authentic greek custard pie, between layers of golden-brown crust, bathed in scented syrup, and topped with melted butter is one of the unique desserts you will find in the country. You will either find it served in tavernas or in traditional bakeries. It is also nicely combined with ice cream, making it the perfect summer temptation!
Spoon Sweets
These sweet preserves are a gesture of hospitality that local tavernas and restaurants usually serve at the end of the meal as a "thank you". They are made of almost any fruit and vegetable, but the most popular ingredients are bitter and sour fruits. You can try them with ice cream or yogurt and can even buy sealed jars to take back home. In the Ionian islands specifically, the kumquat is the most popular fruit so you will find it almost everywhere.
Mosaiko
This no-bake treat with soft chocolate surrounding crunchy butter cookies is something you will no doubt stumble upon while on your trip to the Greek islands. What makes it different from the other local desserts is that instead of being bathed in syrup it tastes like cookie dough with crunchy vanilla cookies. It is usually preserved in the fridge, but during the summer months is even tastier when consumed directly after being taken off the freezer.
If you are now drooling over these delicacies we totally get it. You only need to visit Greece and remember to taste every single one of them!
Need help arranging your vacation to the Ionian Islands? You can always get in touch with us and we will make sure to arrange the perfect customized experience for you!